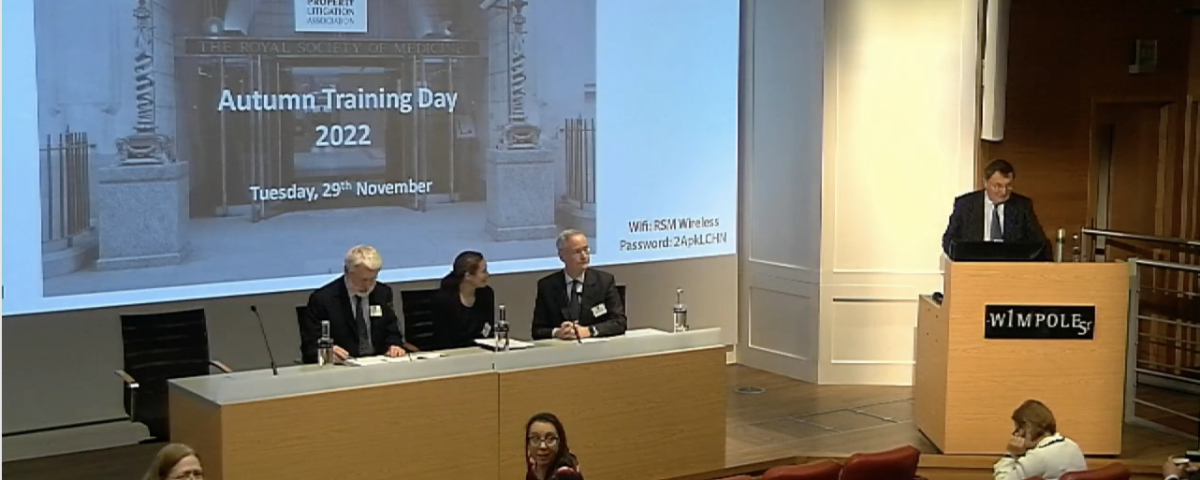 On 29 November 2022, members of the PLA once again descended on the Royal Society of Medicine in London for the PLA's Autumn Training Day. After a forced hiatus due to the Covid-19 pandemic, it was great to be back at this fantastic venue to hear talks from leading property sets on a wide range of thought-provoking and engaging topics. For the first time, the Autumn Training Day was a "hybrid" event and welcomed both in person and online attendees, facilitating attendance by a large number of our members from across the UK.
The day kicked off with opening remarks from Maitland Chambers' Tim Dutton KC and was swiftly followed by Stephen Jourdan KC and Elizabeth Fitzgerald of Falcon Chambers who delivered a talk on 'Expecting The Unexpected – avoiding the potholes in the litigation road', which generated much interest amongst the audience. Stephen and Elizabeth were followed by Kavan Gunaratna from Enterprise Chambers who gave an interactive session (with great use of imagery!) on the subject of 'What's New in Property Insolvency'.
After the morning coffee break, we heard from Tim Dutton KC and Richard Fowler of Maitland Chambers who tackled the thorny topic of the interface between interpretation, implication and rectification, which was followed by an update from the PLA's Law Reform and Wellbeing Committees.
There followed a choice between sessions presented by Martin Hutchings KC and James McCreath of Wilberforce Chambers on the topic of the modification of restrictive covenants under Section 84 of the Law of Property Act 1925 and the highly topical reforms of the Charities Act 2022 delivered by Maxim Cardew and Narinder Jhittay of Maitland Chambers.
After a very enjoyable sit-down networking lunch at which PLA members and speakers had a chance to catch up with each other, there followed another choice between a session on implied easements presented by Myriam Stacey KC and Katie Helmore of Landmark Chambers and a look at the various types of estoppel with Andy Creer of Landmark Chambers (with some legendary Dingbats thrown in for good measure!).
The afternoon was wrapped up with two further sessions; the first session delivered by Daniel Gatty of Gatehouse Chambers who delved into the hidden evidence in land registration and finally an interesting introduction to smart legal contracts with Nicholas Trompeter KC of Selborne Chambers, which is a topic that we will all need to grapple with going forwards.
The chair of the Education and Training Committee, Kate Andrews, and all of its members extend their gratitude to all of the fantastic speakers that delivered sessions at the event and to all of you for attending! We look forward to welcoming members again next year.
Lynsey Ellard
Legal Director, Birketts